Westinghouse Lighting Corporation
In addition to ceiling fans with and without light
Westinghouse Lighting
also offers pedestal, floor and desk fans in various shapes and sizes. The American business emerged from the family-owned business
Angelo Brothers
which was established in 1946 – as a customer, you benefit greatly from this long-standing experience with ventilation technology: outstanding warranty periods, state-of-the-art sophisticated features and user-friendly extras are all part of Westinghouse's basic equipment.
Contents:
Who was George Westinghouse?
When George Westinghouse came into the world on 6 October
1846
as the eighth of ten children, nobody even suspected what tremendous progress the born New Yorker would one day provide. At the age of 15 young George already fought alongside with his brothers in the American Civil War and went to the navy in 1864 in order to become a marine engineer.
However his abilities and strong will let him become
one of the greatest inventors of his time
as even his very first invention made it possible to move derailed train carriages back onto the rails. Over the course of the years he developed many useful things that nowadays we cannot even imagine not to be there, because electric meters, shock absorbers, pressure reducing valves or the AC main power supplies are taken just as granted as the automatic signalling devices and switching arrangements invented by George Westinghouse or his improved buckeye couplers.
He is even said to have helped essentially with the creation of the light bulb. Fame and fortune however came with his pneumatic brake and in consequence founded the "Westinghouse Air Brake Company" in 1869 and the "Westinghouse Electric Company" in
1886
which then traded under the name "Westinghouse Electric & Manufacturing" from 1889 onwards and was later renamed into "Westinghouse Electric Corporation". By the turn of the century there were already 50,000 people employed by Westinghouse. Until 1907 he was one of the leading American industrials, however his business was not spared by the Financial Crisis either and he lost control over the companies founded by himself. Eventually in 1911 he retired from the "Westinghouse Company". Awarded with the "IEE Edison Medal" for his livetime achievement, Westinghouse passed away on 12 March 1914 at the age of 67.
Using alternating current seems like the most normal thing in the world to you? In fact, the year 1890 saw a
fierce competition
between Thomas Edison and George Westinghouse for the leading role in the provision of electricity.
Brief summary of Westinghouse Electric and Westinghouse Lighting
The
Westinghouse Electric Corporation
is one of the most famous American companies and brands. The success of the brand "Westinghouse" still continues in the 21st century. Due to its steady growth the business is now able to grant licenses to different sectors in the production of electric appliances.
Westinghouse Electronics
and
Westinghouse Power
for example are well-known in America.
Westinghouse Lighting
, producer of first-class fans, lighting fixtures and light bulbs, became a licensee in the year 2000. The company itself was founded in 1946 as the family-owned business
Angelo Brothers
based in Philadelphia.
1886
George Westinghouse founds
Westinghouse Electric
in Pennsylvania
1946 - 2000
independent family business
Angelo Brothers
in Philadelphia
2000
Legal name changes from Angelo Brothers to
Westinghouse Lighting
(licensee)
The history of Westinghouse Lighting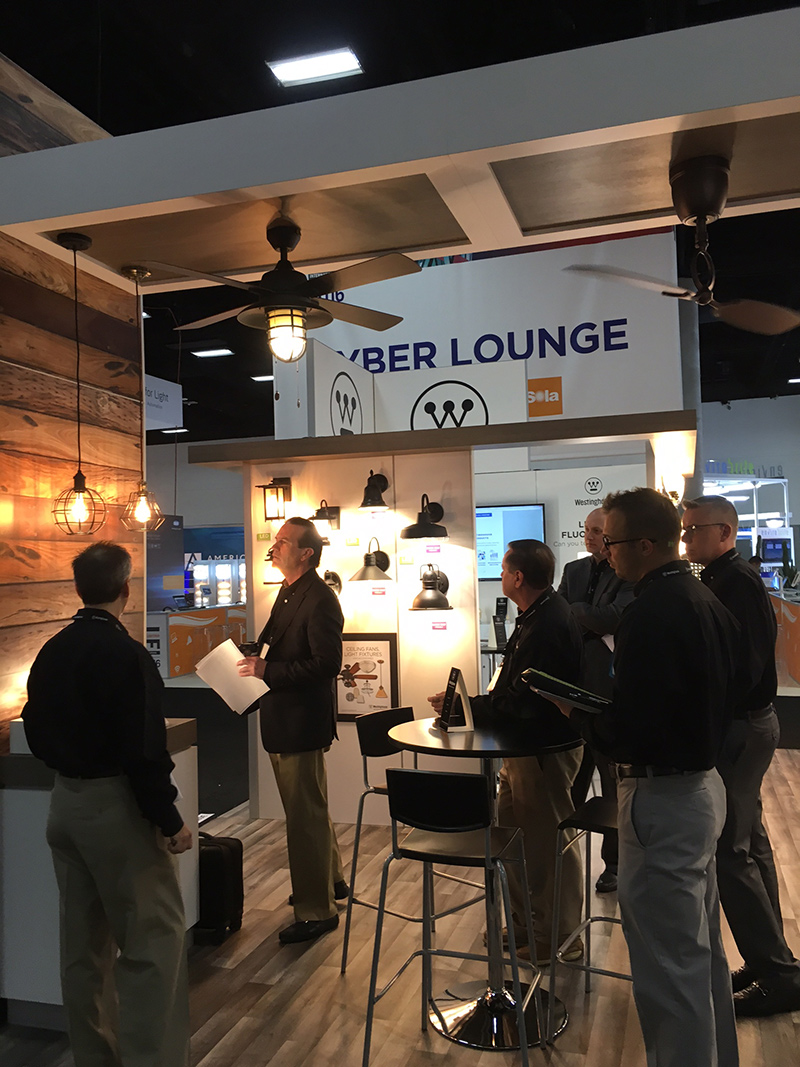 The sales introduces new products: here at the Light+Building fair in Frankfurt / Main, Germany.
Westinghouse Lighting is based in a city predestined for great progress: Rich in American history, Philadelphia was founded in 1682 by William Penn and is the birthplace of the United States (1776). The most famous citizen, Benjamin Franklin, was an inventor, publisher, businessman and politician. Many people show him respect and gratitude for researching lighting and "discovering" electricity.
Interestingly enough, the word
Philadelphia
is composed of the Greek words for "brother" and "love". No wonder that this is where the
Angelo Brothers'
road to success began! By now the company is present in 100 countries on 5 continents.
In 2000 the "Westinghouse Lighting Corporation" was founded and the division "Lighting and ceiling fans Europe & UK" was relocated to Mönchengladbach, Germany. Operating under the name Westinghouse Lighting, the company remains true to its traditions:
Mr. Ray Angelo
, son of the one of the founders of
Angelo Brothers
has been acting as CEO since 2006. He paved the way for international trade and online retail. He got involved with the company at a very young age, Mr. Angelo began working in his father's business during his schooldays. He talks about his personal path of life in our
interview
.
The Westinghouse Lighting main building is located in one of Philadephia's largest industrial parks. It was erected in 1988 in adherence to special requirements and measures about 22,000 square metres. Yet, there is even more room for development: More than 25,000 square metres land are available for future expansion.
What makes Westinghouse fans so special?
A high demand for quality, durability and design gained the Westinghouse brand a leading position on the market for lighting and ceiling fans. An important corner stone of the success is the company's service-oriented, reliable attitude. Westinghouse continue to act on recent European trends in indoor decoration and furniture design and successfully integrate them into their own product line.
The brand offers a comprehensive product range consisting of innovative, stylish and durable (ceiling) fans and modern lighting fixtures.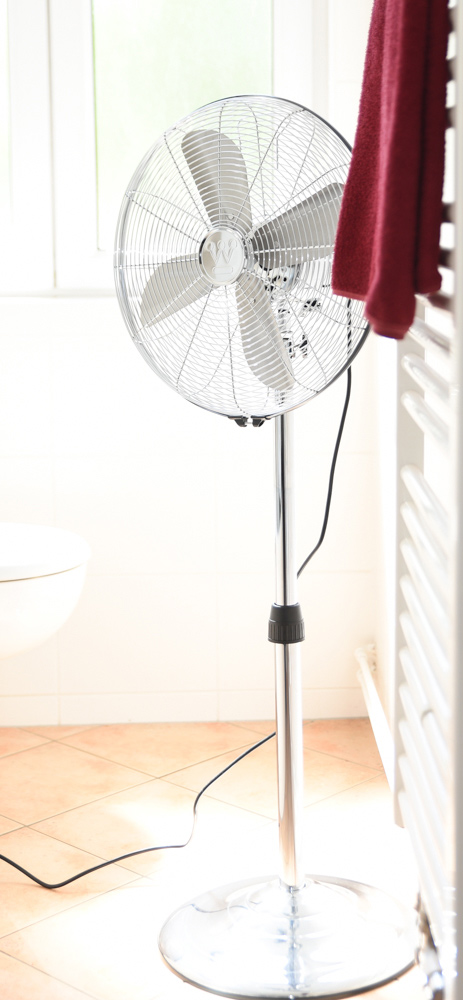 3-in-1 fan Silver Stream
The optional
summer and winter mode
of Westinghouse ceiling fans is just one of the many benefits the products offer. The ceiling fans will provide you with a pleasant cool breeze in summer, on cold days warm air from the ceiling is transported back into the room, thereby saving you heating costs and conserving energy resources.
All benefits at a glance:
up to 10 years warranty on the motor
accessories such as reversible blades, remote control, light fixture etc. are often included in the delivery already
quality-tested production
partial implementation of eco-friendly LED technology
timeless designs with many colours and materials
models for indoor and outdoor use, culinary establishments, commercial premises and with certified IP protection
all-in-one devices: winter and summer mode
Popular Westinghouse fans
LED lamps – A step towards the future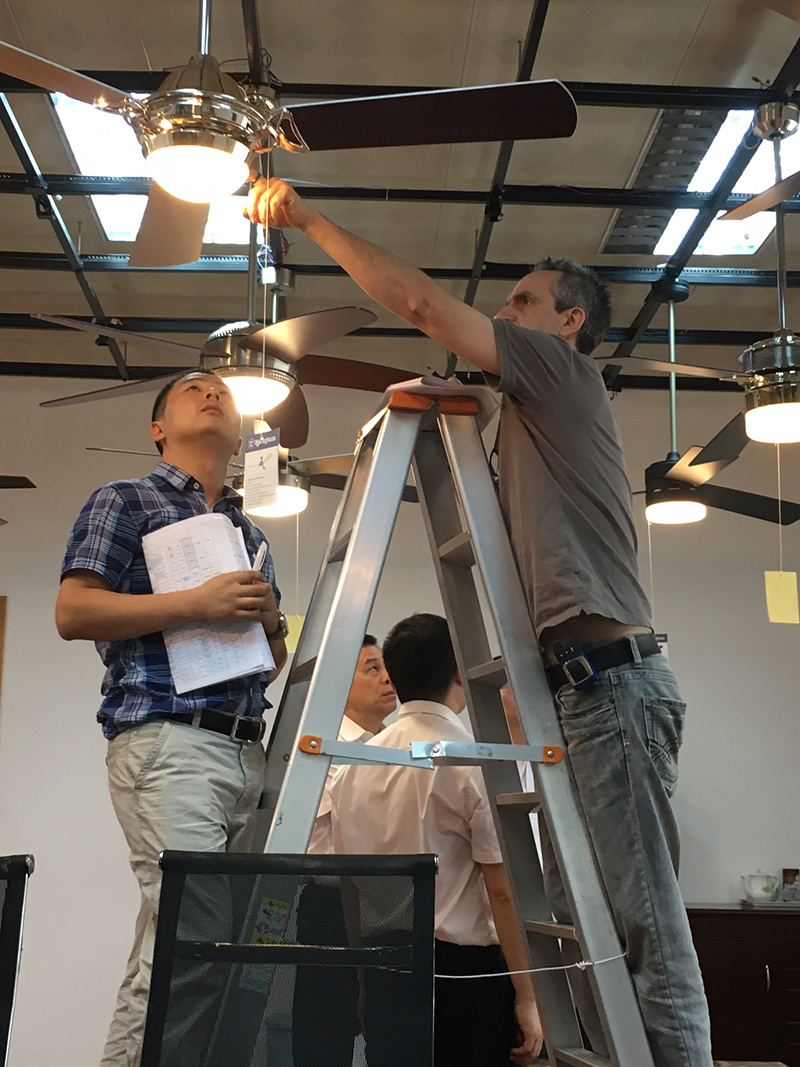 Lights on, lights off - Westinghouse product development
The Westinghouse fan range is also extended by various accessories and light bulbs or light fixtures that comply with current energy guidelines. The invention of
LED technology
revolutionized the lighting industry all around the globe. Further developments happen almost at the same pace as technical progress on the market for smartphones, for example. End consumers usually notice the biggest difference when they first switch from a regular 59 Watt incandescent bulb to a 20 Watt LED lamp. For a brand such as Westinghouse, countless tests and constant new product developments are involved in decreasing the consumption further down to 19, even 18 Watt.
However, the focal point of the research is not only energy efficiency, instead it also concentrates on improved luminous colour. By doing so the manufacturer meets customer demands and secures a leading market position:
When it comes to ceiling fans Westinghouse Lighting has already been declared the leader on the European market in 2016, and depending on market studies, either on first or second place in the USA.