Vents mixed-flow inline fan duct fan TT Pro 160 series up to 565 m³/h IPX4
Vents mixed-flow inline fan duct fan TT Pro 160 series up to 565 m³/h IPX4
Dimensions and technical details
220 - 240 Volt , 50/ 60 Hertz
Material: housing made of durable, top-quality, robust and flame-retardant polypropylene
Type: mixed-flow inline fan with two speeds (low energy single-phase motor)
Model selectable (TT PRO V, TT PRO T, TT PRO U )
TT PRO 160 V: includes integrated speed controller
TT PRO 160 T: includes integrated timer, adjustable between 2 to 30 minutes
TT PRO 160 U: includes speed controller with electronic thermostat and temperature sensor (integrated in air duct). With power cord and IEC C14 plug. Temperature-controlled operation.
Ideal for ventilation systems that require high pressure, powerful airflow and low noise development
Diameter: 160 mm (compatible with air ducts with 160 mm diameter)
Max. ambient temperature: 60°C
Quality: Device with long, trouble-free service life (ca. 40,000 hours of operation, ball-bearing motor, integrated protection against overheating)
Simple maintenance: Central unit can be removed from the housing easily and quickly
Mounting options: any position and angle
Air inlet is equipped with a collector that ensures smooth air intake
The conical fan wheel and profile of fan blades increase circulation speed of the airflow, ensuring a higher pressure and airflow rate that conventional axial fans
Protection: IPX4 (splashing water)
Ideal for ventilation in damp rooms such as bathrooms, WCs as well as ventilation in apartments, houses, shops and cafés
Weight: 3.25 kg
Type

Power consumption (Watt)

min. /max.

Current consumption (Ampere)

min. /max.

Airflow (m³/h)

min. /max.

Rotation speed (rpm)

min. /max.

Sound pressure Lp-3m (dB(A))

min. /max.

Vents TT Pro 150
42 / 50
0.19 / 0.22
415 / 546
1940 / 2620
37 / 46
Dimensions in mm
| Type | ØD | B | H | L |
| --- | --- | --- | --- | --- |
| Vents TT Pro 150 | 158 | 220.1 | 247 | 289 |
Characteristics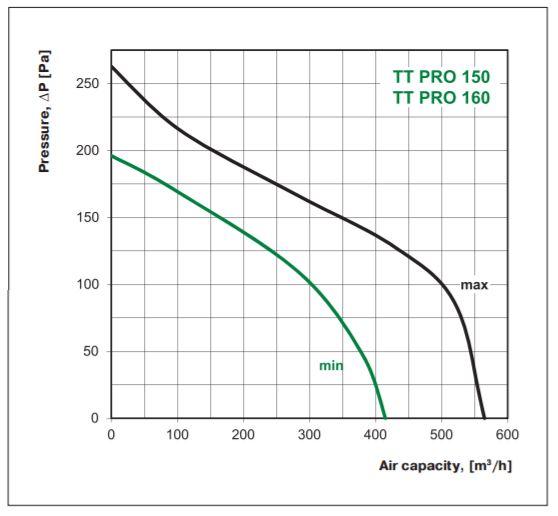 Accessories and extras are available in our shop.
.