Extractor fan range Filo MF 150 up to 335 m³/h
extractor fan range with various options
max. 28 W wattage
IPX4 splashing water protection
mount to walls in horizontal, vertical or diagonal position
integral shutter flap
---
immediately ready for dispatch, delivery time 2 - 3 days
---
Dimensions and technical details
220-240 Volt ~ 50 Hertz
Various options available
Housing colour: white
Housing material: UV-resistant ABS plastic
Nominal size: 150 mm
Max. wattage: 28 W
Max. current consumption: 0.15 A
Revolutions per minute: 2100
Speed levels: 1
Max. airflow rate: 335 m³/h
Total pressure Pmax: 59 Pa
Sound pressure level Lp-3m: 40.1 dB(A)
Max. temperature for continuous operation: 50°C
Protection code: IPX4
Protection class: II
Weight: 0.97kg
Thermal overload protection
Integral shutter flap prevents cold air from infiltrating
Used to extract air from the inside directly to the outside
Mounting options: wall mounting (horizontal, vertical, diagonal position)
Optional condensation gasket for ceiling installation kit sold separately
| Type | Equipment |
| --- | --- |
| Filo MF 150 LL | Standard |
| Filo MF 150 T LL | Time delay (adjustable 2-30 min) |
| Filo MF 150 THCS LL | Time delay (adjustable 2-30 min), humidity sensor (adjustable 60-90% RH) |
| Filo MF 150 PIR LL | Motion detector with time delay (adjustable 2-30 min) |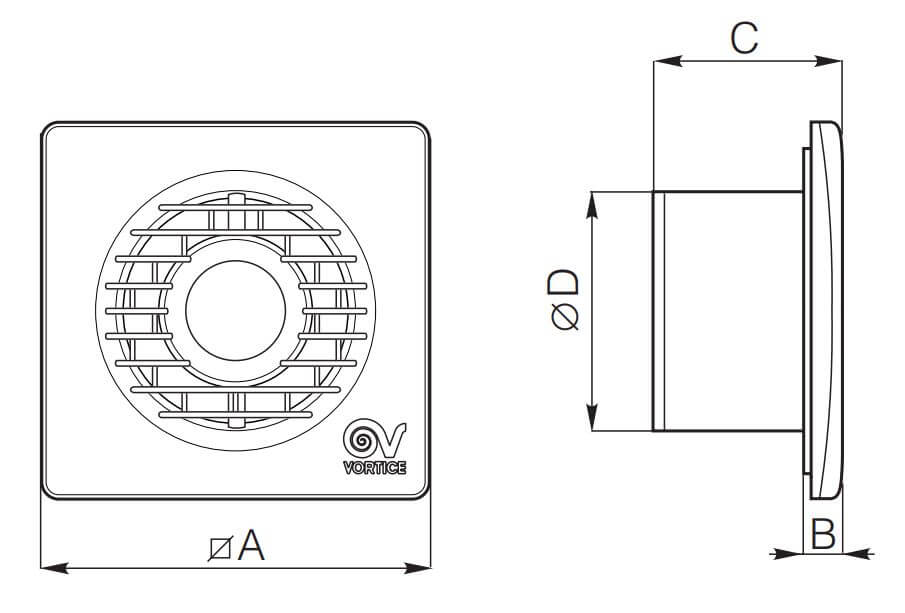 | Type | A | B | C | Ø D |
| --- | --- | --- | --- | --- |
| MF 150 / 6" | 214 mm | 17 mm | 96 mm | 156 mm |
Characteristics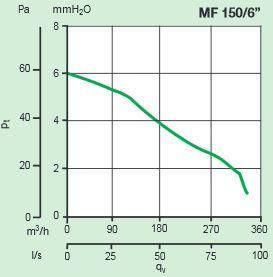 Optional accessories are available in our shop.
The axial wall fan FILO MF 150 provides a pleasant indoor climate in small office spaces or stock rooms. It is also a good option for bathrooms and kitchens, the Vortice Filo does not take up much space. There is always enough room to mount the device to the wall, with a weight of 980 g it is one of the lighter models on the market. The air is transported to the outside through a short pipe, on the inside of the room the flat front guard is a subtle addition to the interior without disrupting the overall design.
Small but powerful - The FILO MF 150 is a branded product with outstanding performance. Despite a variable airflow with a maximum of 335 m³/h and 2100 revolutions per minute, the ball-bearing motor consumes as little as 28 Watt and develops 40.1 decibels of sound (Lp-3m (dB(A))). A protection against thermal overload and splashing water ensure a long service of about 30,000 hours. In our Creoven shop you will also find everything you might need for the FILO MF series: extras such as speed controllers, installation kits or filters are available in the accessories part of the item description.