The nine types of the Hunter Builder ceiling fan series is available with three lights, one big glass bowl or completely without a light kit. The housings are finished either with a white, brushed chrome or new bronze lacquer and feature blades in a harmonious colour scheme. The darker fan models are equipped with reversible blades that have a different wooden finish on the front and reverse. All Builder models have a fan width of 132cm (52 inches) and are perfectly suitable for rooms with up to 25m2 size. The Builder is operated by a manual pull switch, remote control and wall controller options are available in our shop.

The smooth running of the ceiling fans is guaranteed thanks to a balanced WhisperWind® motor. The blades with a slight pitch have been designed for maximum air circulation. The blade holders are made with loving attention to detail, the wooden blades are finished with a white or wooden colour. The Builder is able to spin clockwise and anticlockwise for year-round use.
Our product choice for you
Basic version Builder Elite without light
---
Builder Deluxe with bowl light kit
---
Builder Plus with three floral spotlights
---
Details of models without light, with frosted bowl light kit and three floral spots
Basic model Elite without lights
Overall depth: 33.1cm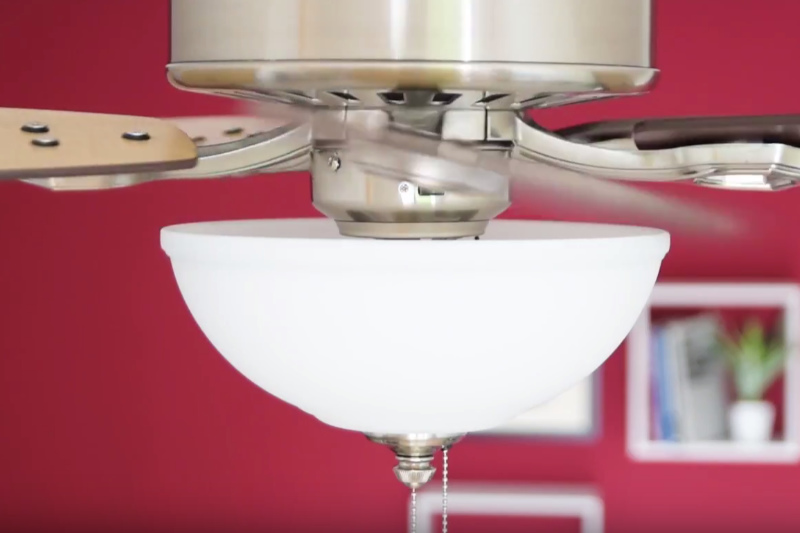 Deluxe with integrated bowl light
Overall depth: 47.1cm
Diameter light kit: 31.5cm
max. 2 x 60 Watt (bulbs not included in the delivery)
Suitable for bulbs of the energy efficiency classes E to A++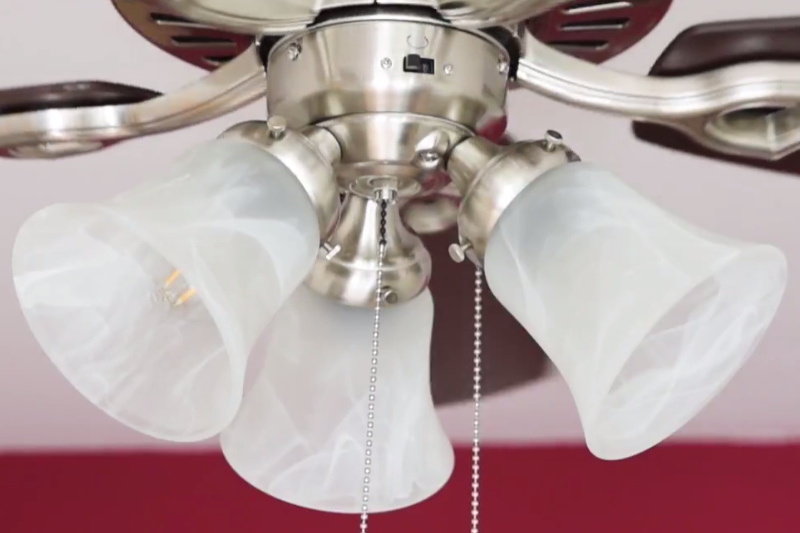 Plus with 3 lights
Overall depth: 47.9cm
Diameter light kit: 34cm
E27 base, max. 3 x 60 Watt (bulbs not included in the delivery)
Suitable for bulbs of the energy efficiency classes E to A++
The basic version of the range is the Hunter Builder Elite. It comes without lights and features an embossed cover plate at the bottom where the light kit would attach otherwise. All models are controlled with pull cords and have a manual reversing switch that activates the summer and winter function. The Deluxe version with bowl light holds a decorative glass that ends in a small, coloured tip at the bottom. The glass is available in a frosted, slightly marbled design for the white and brushed chrome fans as well as in a darker amber colour for the new bronze housing model. Finally, the Builder Plus offers three lights with tulip shaped glasses. None of the models include bulbs upon delivery. You can choose to use bulbs rated from energy efficiency class E to A++.
Ceiling fan lighting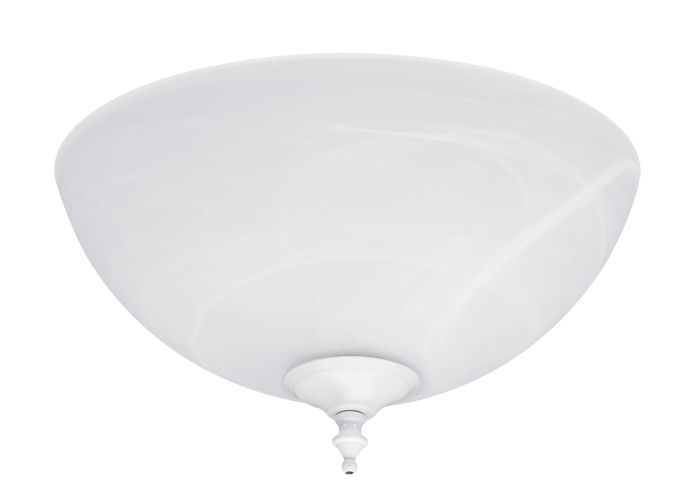 White glass bowl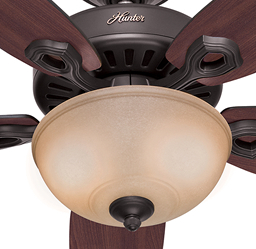 Amber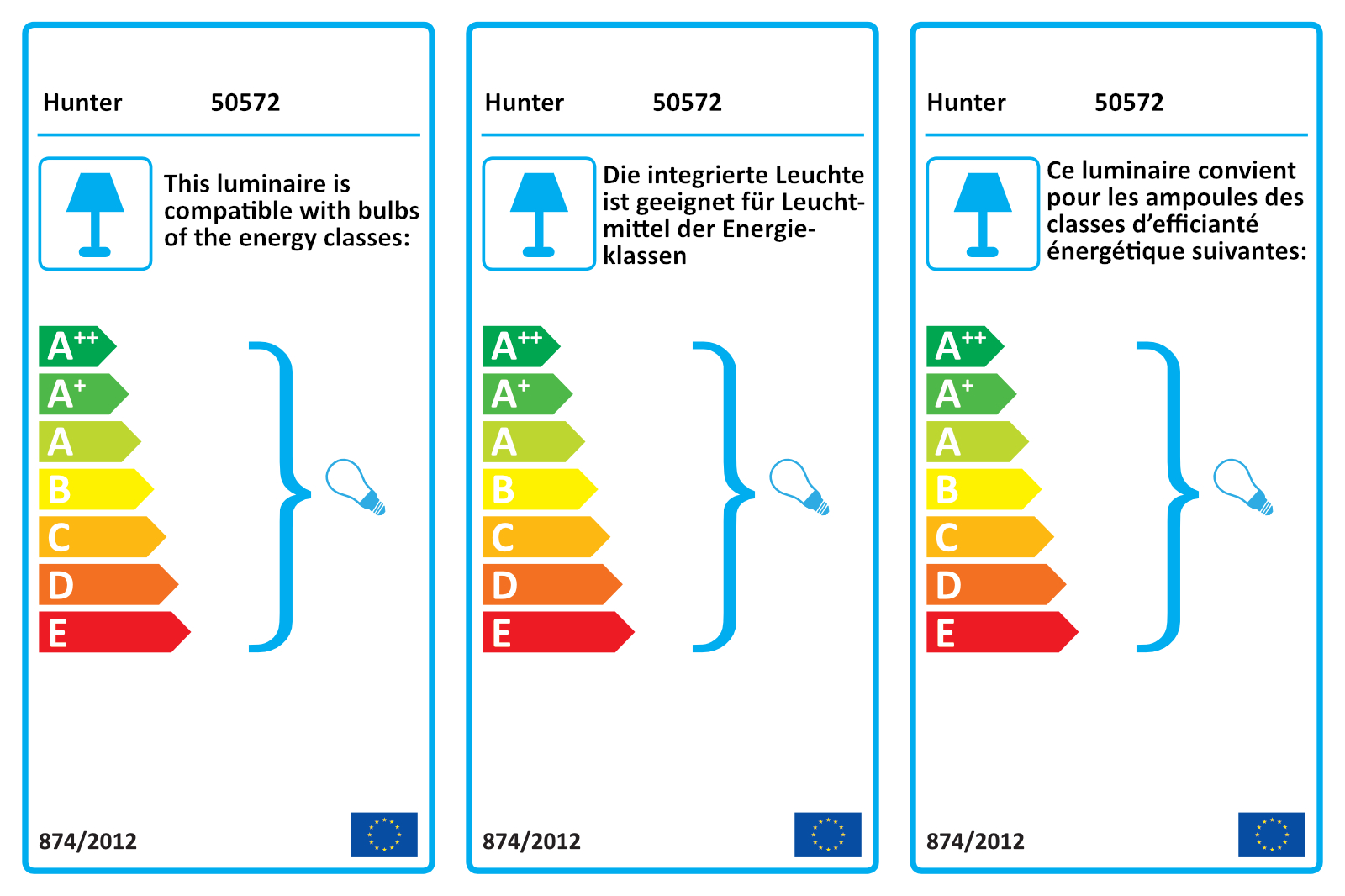 Energy efficiency label light kit
Hunter blade colours
Each fan is supplied with a complete set of five blades made of medium-density fibreboard (MDF) and a balancing kit. The fan units are finished with a white, brushed chrome or new bronze lacquer and are accompanied by blades in an appropriate colour: The white fan includes a set of five white blades. The other two darker colour options include reversible blades with a Brazilian Cherry and Yellow Walnut finish. The blades can be mounted with either side facing downwards. The blade finishes are an imitation of the natural wood grain.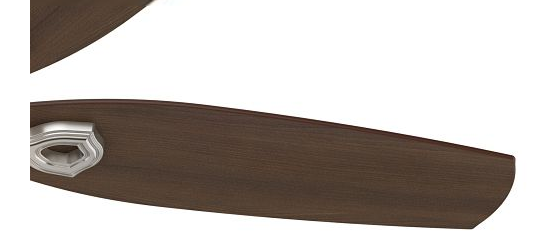 Brazilian Cherry Finish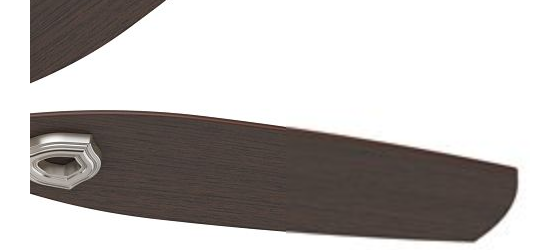 Yellow Walnut Finish
Control of the ceiling fans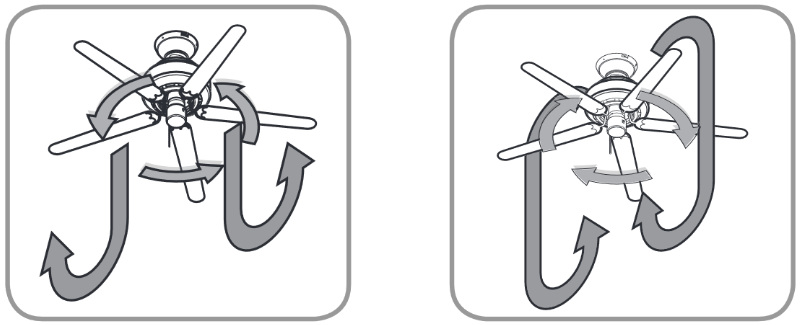 Ceiling fan running direction, counterclockwise, clockwise
The Builder ceiling fans rotate anti-clockwise in the summer when temperatures are high. During this mode the blades push air from the ceiling down to the ground and create a cooling effect (see left image). Once temperatures begin to drop, simply flick the reversing switch on the outside of the motor housing. Now the fan operates in winter mode, air from the ground is sucked upwards to the ceiling (image on the right). Hot air on the ceiling is recirculated and brought back into the room. This results in a more balanced temperature in the room since cold spots on the floor are eliminated.

Save heating costs by setting your Builder ceiling fan to winter mode.
Two pull chains allow you to control the fan on three speeds with a maximum of 153 revolutions per minute as well as the lighting feature. If required, an optional remote control or wall controller (with and without light switch) from our shop's accessory selection can be added. The light and fan units can be operated independently.
Your Hunter Builder ceiling fan:
absolutely smooth running thanks to a WhisperWind® motor
balanced motor and blades
pull cords (3 speeds, light on/off)
reverse function, summer and winter mode
remote control or wall controller upgrades available
ideal for medium-sized rooms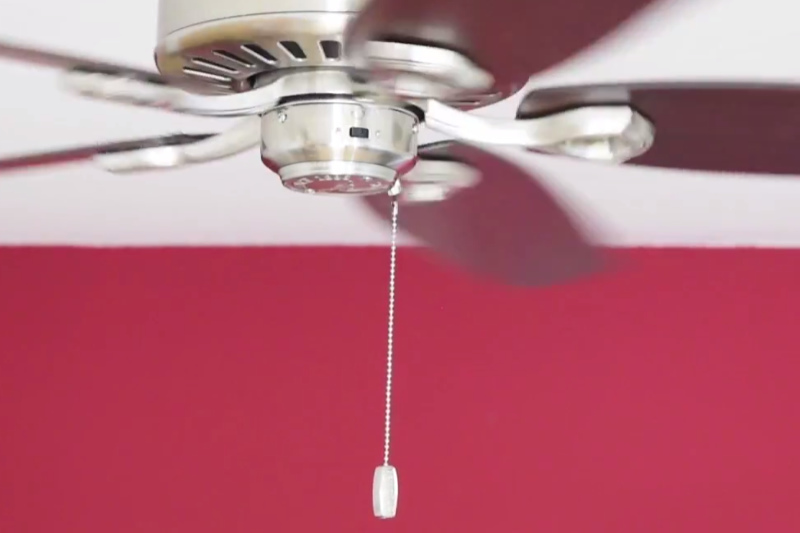 Ceiling fan pull cord
Installation and maintenance of the new ceiling fan
The Hunter Builder ceiling fan range has been perfectly balanced in the factory by the manufacturer. This excludes any possibility of noise and imbalance due to vibration or wear of single parts. Installation of the fans is recommended in rooms with at least 2.60m ceiling height. This rules out possible accidents of bumping into the fans. A minimum distance of 70cm should be kept to solid objects such as walls or heavy furniture. It is possible to fit the fans onto sloping ceilings with a maximum pitch of 22 degrees. If required, you will find a variety of fitting extension drop rods in our shop.
Use a soft brush or lint-free cloth to clean the Builder fans. Check the detailed manual for more information about removing stains and polishing the unit.
Dimensions and technical data
Voltage: 220 - 240 V~ 50 Hz
Diameter: 132cm (52 inch)
Motor wattage: 20 - 65 Watt
Max. 153 revolutions per minute
Can be mounted to sloping ceilings (max. 22°)
Diameter canopy: 16.5cm
Weight: 8.6kg
5 blades
Ceiling to blades: 29.7cm
Optional accessories:
Brand: The US American Hunter Fan Company began producing water-driven ceiling fans in 1886. Today, state-of-the-art Hunter fans are operated by whisper-quiet electric motors. Lovely details on the blade holders and light kits reflect craftsmanship and high-grade design from this era.
Image sources:
Product pictures © creoven.de and hunterfan.com