Westinghouse ceiling fan Bendan, with LED or Halogen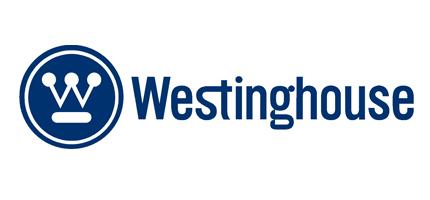 The popular Westinghouse Bendan ceiling fan meets your needs for a stylish, quiet ceiling fan with light, remote control and reverse function – at a truly remarkable price. The four housing colours** of the Bendan models correspond to contemporary aesthetics and a demand for durability. They are made of high-quality metal with a finish in Dark Pewter, Aluminium, Satin Chrome and White lacquer. In case of the LED versions the casing is also enhanced with hammered accents. The durable AC motor made of cold-rolled steel operates in a smooth and quiet manner and offers three fan speeds in summer or winter mode. The manufacturer Westinghouse furthermore grants 10 years of warranty on the motor. The delivery also includes a fan remote control.

The Westinghouse Bendan ceiling fan is available with two different lighting options: As a LED ceiling fan or with a halogen lamp.
Westinghouse Ceiling Fan Bendan with LED light kit
Westinghouse – Our product choice for you:
Ceiling fan Bendan with LED light kit, lamp and remote control
230 - 240 Volt / 50 Hertz
Diameter: 132cm / 52" for medium-sized to large rooms
Available blade colours*: Applewood, Brown/Wengue, Silver, White
Blade material: MDF, plywood
Housing colour: Dark Pewter, Satin Chrome, Aluminium, White, with hammered accents
Light fixture: LED, 17 Watt, dimmable, opal frosted glass
Includes remote control (light on/off/dimming, fan off/speeds)
Blade pitch: 12°
Revolutions per minute: 175 / 132 / 83 (three fan speeds)
Motor wattage (Watt): 56 / 31 / 14
Airflow m3/min: 159
Dimensions ceiling to blades: 29cm / 11.4"
Dimensions ceiling to bottom of glass: 36cm / 14.2"
Sound level dB(A): 50
Winter and summer mode via slide switch on the housing
Max. ceiling pitch: 18°
Light and fan are controlled individually
Extremely smooth and quiet operating, no audible motor noise
10 years limited manufacturer's warranty on the motor
Can be used with an optional wall control instead of the remote control
Weight: ca. 7.6kg
Details lamp
LED
Luminous flux: 1200 lumens
Colour temperature: 3000 K (warm white)
Watt: 17
Average rated service life: 25,000h
Dimmable
Energy efficiency rating: A+
The Westinghouse LED light kit is included in the delivery!
Due to the opal frosted glass shade the effectively perceived luminous flux drops to 950 lumens.
The 17 Watt LED is equal to a 75 Watt incandescent light bulb.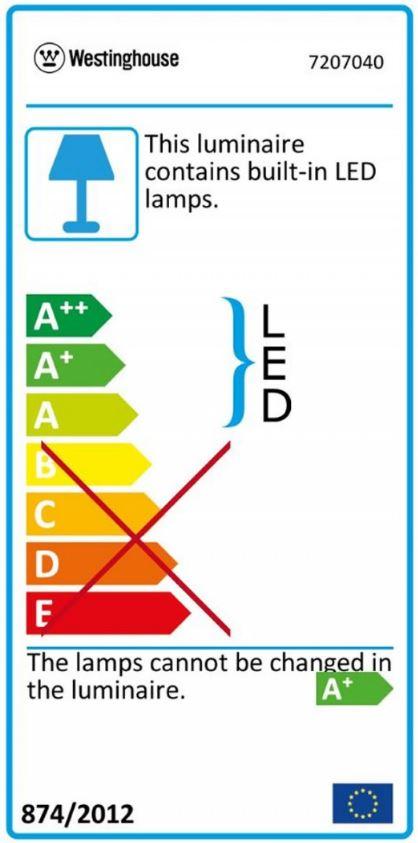 ---
Westinghouse Bendan ceiling fan, with halogen lamp and remote control
Bendan with halogen light kit – Our product choice for you:
Data overview of Bendan fans including halogen bar:
The following details includes only the differences to the LED models, the other data applies to both versions.
Housing: without hammered accents
Dimensions ceiling to blades: 26cm / 10.2"
Dimensions ceiling to bottom: 38cm / 14.9"
Revolutions per minute: 175 / 124 / 86 (three fan speeds)
Motor wattage (Watt): 60 / 35 / 20
Light fixture: not dimmable, halogen lamp is included
Light opal frosted glass shade
Weight: ca. 8.5kg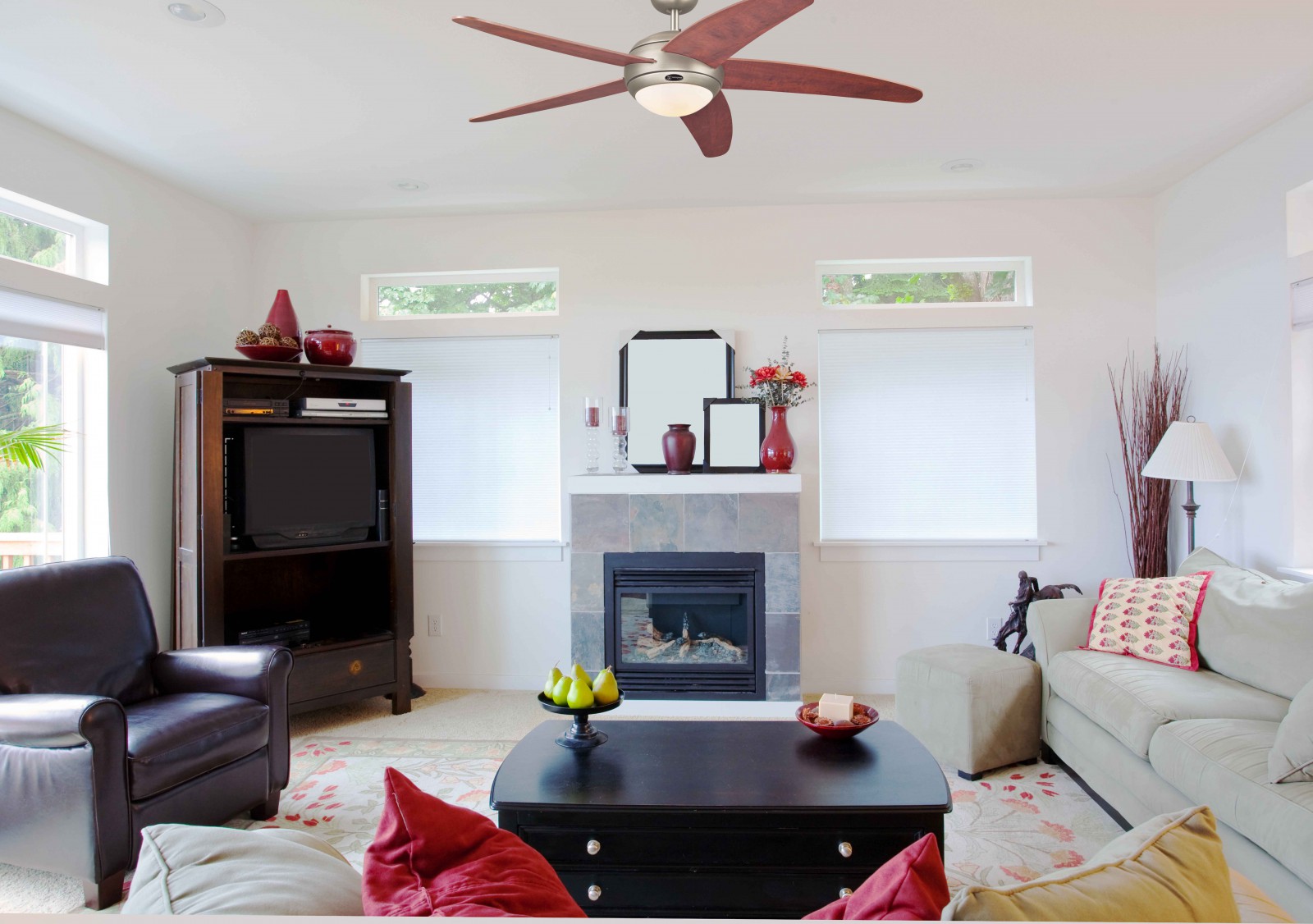 Details lamp
Base: R7s
Luminuous flux: 1380 lumens
Colour temperature: 2900 K
Watt: 80
Average rated service life: 2000h
Energy efficiency rating: D
This luminaire is suitable for lamps rated energy efficieny classes E to A++! This model comes with a halogen bar with an average service life of 2000 hours. The Bendan's light fixture can be operated individually from the ventilation features and can be equipped with all lamps with a R7s base.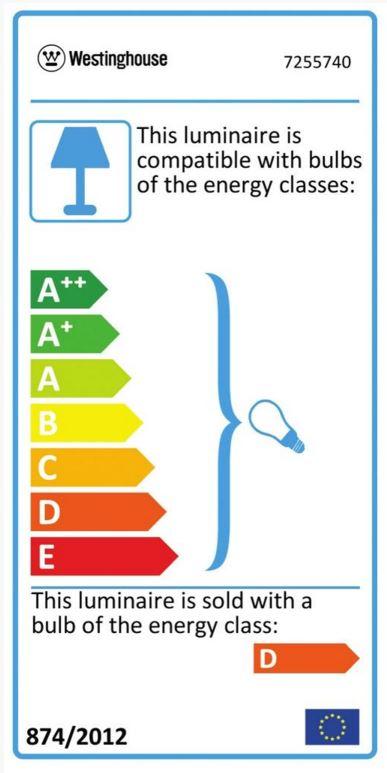 The Westinghouse Lighting model Bendan is one of the modern classics from this brand's product range. The round light fixture in combination with the five curved blades, available in four statement colours, creates a plain and simple, yet soft atmosphere. The glass, metal and wood* materials perfectly complement one another, resulting in a timeless, cheerful look. This impression is further enhanced by the opal frosted glass that covers the bulb: its light illuminates the room with a soft and pleasant lighting. However, the lamp (both models with halogen and LED) can also be used as a single ceiling light, without switching on the ventilation functions of the fan.

The shape and appearance of the Bendan ceiling fans have been carefully designed with great attention to detail, they go very well with decoration in living rooms as well as representative reception rooms. The version with hammered accents on the shell softly reflects light in the recessed ornaments. That way daylight or the fan light itself creates a nice effect underneath and on top of the fan blades.

The whisper quiet motor also makes these models perfect matches for bedrooms. The slight blade pitch of 12° guarantees efficient air circulation even on the lowest of the three fan speeds. However, the Bendan is not only a chic eyecatcher and air handler, instead it helps you to save heating costs: the reverse function (winter mode) re-circulates warm air back to ground level. The manufacturer Westinghouse assures a durable motor and user-friendly handling with the included fan remote. Now you only have to decide which one of the eight Bendan fans you like most! With our fast dispatch and free UK shipping for orders of £60 you'll hold it in your hands in the twinkling of an eye.
Detailed close-up of the Westinghouse Bendan 132cm / 52-inch ceiling fan: Fan for summer and winter, with light and remote.
All benefits of the Westinghouse Bendan ceiling fans:
Ceiling fan light (halogen or LED)
Very quiet AC motor with 10 years manufacturer's warranty
Reversible switch for summer and winter mode
Popular appealing design – one of our bestsellers!
Remote control included
Three fan speeds
Diameter 132cm / 52" for medium-sized to large spaces 2
Reliable Westinghouse quality
Small price – incredible airflow
Accessories available
Where to apply this versatile ceiling fan:
Bedroom or living room
Corridor or reception area
Office and business premises
Heat recovery with winter mode
Our Bendan ceiling fan quartet uplifts any interior
Matching them to your existing interior is quite easy thanks to four different housing and blade colours that are available: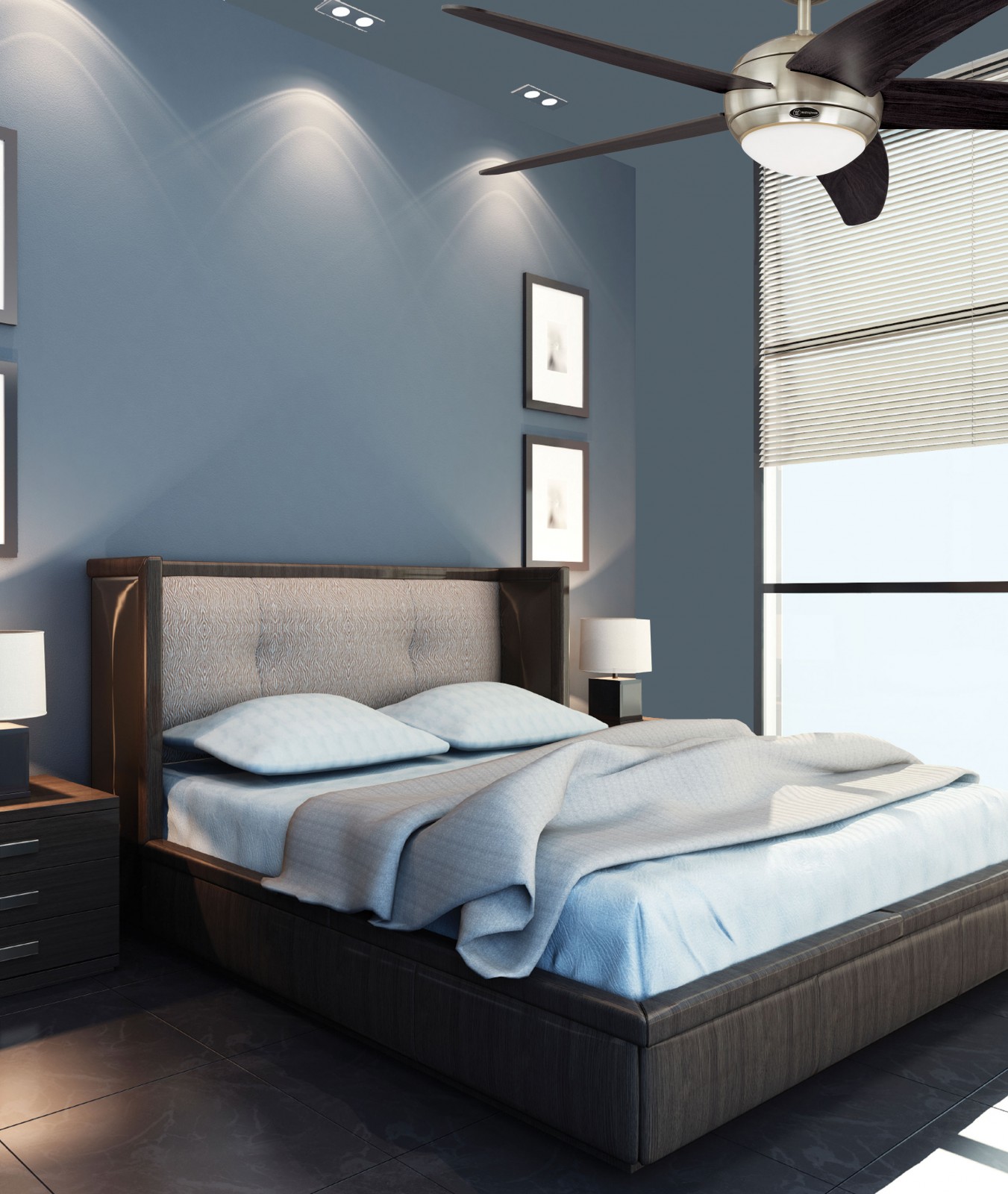 The Bendan ceiling fan did everything right: Performance, price and design.
Dark pewter** meets romantic applewood*
Its irregular, slightly reddish grain gives the native applewood a playful appearance. The colours of the wood and dark pewter housing match well, the housing picks up the warm tone of the wood and tops it off with a metallic gloss. This fan fits carpets with oriental ornaments, pillow covers with brocate patterns and interior decoration with warm metallic colours such as antique gold.

Satin chrome** flirts with brown wengue*
Elegant satin chrome harmonises wonderfully with one of Africa's most precious woods. The dark flesh of the Wengue tree, a member of the family of legume trees, is characterised by its striped, almost mocca brown grain. This model goes well with polished wood floors and almost all colour combinations, particularly with slightly cool shades like blue or grey (see picture). It also enjoys great popularity in clear, structured interior designs with a sober black and white colour scheme.

Bright prospects: Aluminium** and silver*
Despite its metallic colour, this version of the Bendan come off as cold, but rather as light and airy instead. Without any problems it integrates itself in rooms with a light colour scheme and is a good choice for corridors or offices alike, where its modern, slightly mechanic look harmonises with other electrical appliances. For high ceilings we recommend an extension rod with a matching brushed chrome colour which is available in different colours on creoven.eu.

Clean white** for lovers of simplicity
A true vision in white, this model acts as a very chic highlight when put up in rooms with shelf units and furniture that share the same style. This appearance is enhanced even further when a splash of colour is added, for example with plants or pillow covers. Its subtle elegance offers you a lot of freedom when it comes to combining it with different types of interior design. That is why it is such a good choice for offices and reception rooms as well.
---
Accessories
Original Westinghouse accessories are available in our shop – fast dispatch.
The wall control can be added to be used as a control method instead, however it is not possible to combine it with the remote control and use both units together.
---
Spare parts
---
Manufacturer: In the year 1886 famous inventor George Westinghouse founded the Westinghouse Lighting Corporation in Pennsylvania, USA. By 1893 25,000 Westinghouse lights were already illuminating the World Exhibition in Chicago. The fast-paced rise of the company is to be accredited to constant further developments of outstanding technical visions. The brand continues to represent a versatile product range consisting of electrical appliances with sophisticated designs and the drive to improve and facilitate the everyday lives of customers. Long warranty periods and top-performance motors are just some of the reasons for Westinghouse's popularity.
Details blades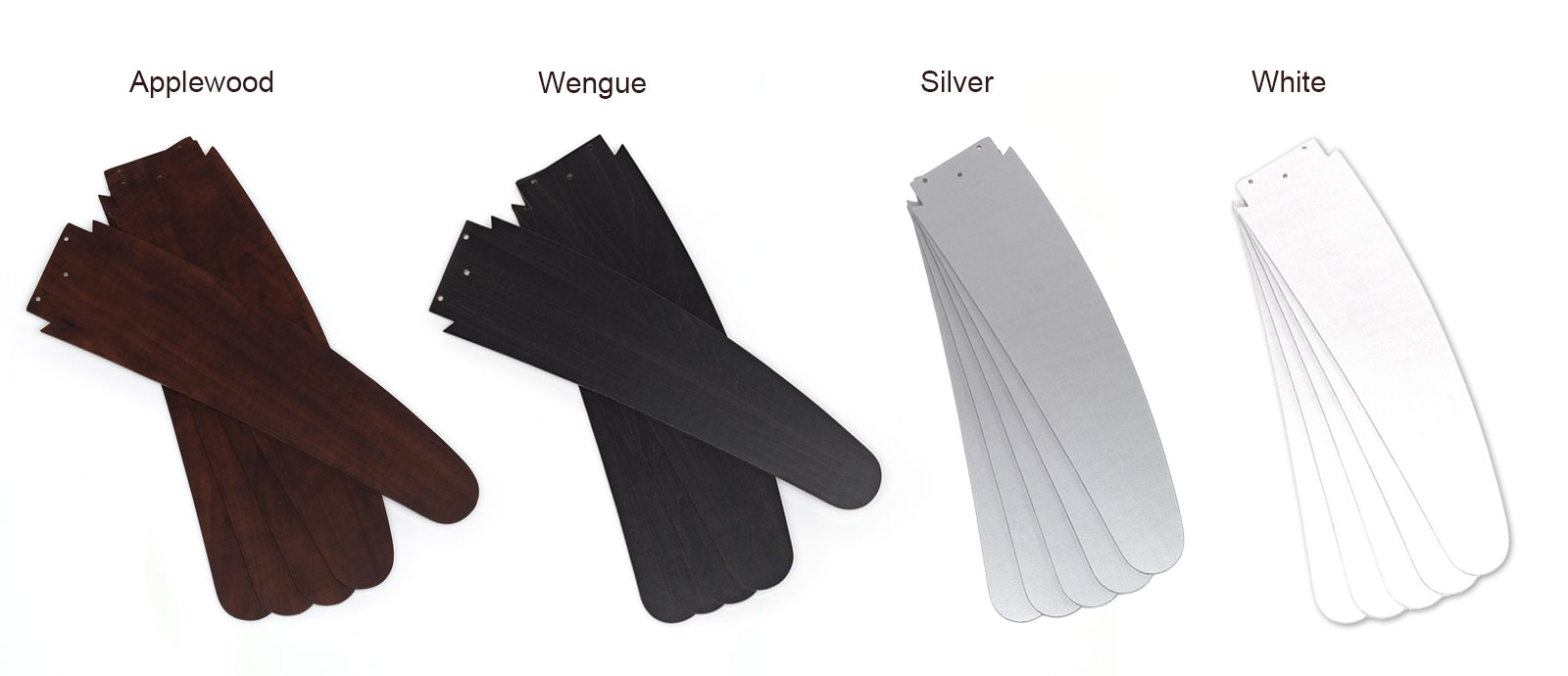 *= wooden blades made of medium-density fibreboard (MDF, plywood) with a finish in the specified colour
**= metal housing, lacquered with the specified colour

Product pictures by courtesy of Westinghouse Lighting